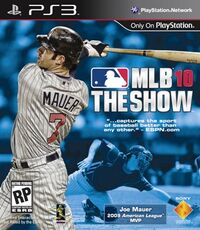 MLB 10: The Show is a baseball simulation video game created by Sony Computer Entertainment's San Diego division. The MLB: The Show series of video games is the longest officially licensed baseball simulation game on the PlayStation. The game is made for Sony's own PlayStation 3, PlayStation 2, and PlayStation Portable. It is the direct successor to MLB 09: The Show, and was released on March 2, 2010. The game presents a number of new features, including catcher mode, and Home Run Derby.
This game offers all 30 Major League Baseball Teams.
AAA Teams
Edit
MLB 10: The Show was the first appearance of Target Field, the new home field of the Minnesota Twins. You can still select to play a game at the Twin's old stadium, the Hubert H. Humphrey Metrodome.